Welcome to our new mental health and wellbeing page for parents. There is a seperate page for children to have a look at with lots of fun things and videos to watch.
You will find that there is a lot of detailed information on this page and I would suggest you concentrate on the parts that interest you the most rather than try to read it all in one go.
My name is Mrs Harrison, and I am the senior mental health lead (SMHL) here at Cockfield Primary School.
My role as the SMHL is to offer support to any children and adults that feel they could benefit with having a quiet welcoming environment and the opportunity to talk to someone trained in mental health and wellbeing.
What can I do?
The school have been able to split my job role to utilise my mental health training and this enables me to help the children that require advice or listen to those that just want someone to talk to.  I can offer them a quiet, safe and calm space for them times when they just need to be away from everyone plus I have the added bonus of not being the person that reprimands or issues punishment, a cosy beanbag, a growing family of worry monsters and a good listening ear!
On this page I will share helpful resources that might be useful to families in our Cockfield community. Alternatively, you can contact me via email at cockfield@durhamlearning.net or by calling 01388 718263.
So far on this page I have shared information on:
Worry and Anxiety
Anger
Gender Identity
Self esteem and believing in yourself
Mental health conditions
Challenging Behaviour
links to help groups and phone numbers
All the information on here has been taken from leaflets or pages on the web, each section has the links to click on to access the full page if there is something that you would like to read further.
---
Sats
Give your child some all important "me time" during their SATs with these top tips on how to relax the mind and body and make for a healthier, happier learner! (sourced from the schoolrun.com)
1. Just as important as agreeing a set time for your child to do revision each day is setting aside some time for your child to unwind and participate in activities they enjoy. So schedule regular breaks, which will help to motivate them.
2. Especially important to your child's ability to relax and get a decent night's sleep is ensuring that they stop doing work at least an hour and a half before bedtime, otherwise their mind will be too active for sleep.
3. As well as a comfortable study area stocked with stationery, set up a comfortable relaxation area, too. It can be filled with cushions and soft fabrics, with music and incense, and favourite toys and books.
4. Take your child on plenty of walks during their breaks. They help stimulate the mind and a blast of air will really refresh their brain cells.
5. Listen to your child's worries and anxieties and encourage them to be open with you. Plenty of hugs, reassurance and positive encouragement will go a long way to helping them to relax.
6. Help them to unwind at bedtime with plenty of relaxing bubble baths, soothing music and fun bedtime stories.
7. Don't give your child any sugary foods before bedtime. Hot milk is a great drink to help soothe and relax your child.
8. On the actual SATs day, make sure they arrive at school in good time so they don't feel rushed or stressed and give plenty of encouragement.
9. Model positive language and behaviour – never talk about 'pass' or 'fail'.
10. Give your child something to look forward to after SATs, such as a day out or a special treat, regardless of their results.
Worry & Anxiety
Do you have a child that suffers from anxiety and worries a lot? This little video is really good at helping them control their feelings.
Click on the below link to see 35 healthy anxiety coping strategies and advice on how to empty your stress bucket.
35-Healthy-Coping-Skills-Poster-School-and-Home
---
Anger
This video taken from you tube is really good at showing some anger management tips:
Quick Ways to Help Kids Express Their Anger
Rip paper
Pop bubble wrap
Squish playdough
Wrap your arms around yourself and squeeze
Write a letter to someone
Jump on a trampoline
Do wall push-ups
Write down what's bothering you and rip it up
Squeeze a stress ball
Talk about it
Scribble on paper and crumple it up
Do jumping jacks
Put the palms of your hands together, push and release
Do stretches
Do a hookup – see it in action on Youtube!
Read Books About Anger Together
Cool Down and Work Through Anger by Cheri J. Meiners M.Ed. Another great book that talks about how anger affects your body and suggesting safe ways to express yourself.
How to Take The Grrrr Out of Anger by Elizabeth Verdick and Marjorie Lisovskis  I love using this book for kids who are having a hard time managing being angry. I typically read one chapter at a time with the kids and work on some of the strategies listed in the book
The Secret to Clara's Calm by Tamara Levitt. This is another beautifully illustrated book that demonstrates the power of mindfulness in managing big feelings. Clara has a bad temper and has big reactions to small problems, but then that leads to kids not wanting to be around her anymore. She works on learning how to be mindful and manage her big feelings with the help of a bird named Brodhi.
---
For Parents: Keep Yourself Calm
It's common for parents to struggle with staying calm when their child is angry. As a mom, I know that's tough, especially when your child is having a difficult time. But it's important to learn to do it. You have to get yourself calm before you can help your child. One of the best ways to help your child is to make sure you stay calm yourself.
Use Self Talk
Here are some phrases that may help you as you are working with your angry kid:
They're having a hard time, not giving me a hard time.
Share my calm, don't join their chaos.
I am in charge of staying calm, no matter how my child is acting and behaving.
All feelings are OK. My job is to help my kid manage them.
I can remain calm, and be a good example for my child.
Be the thermostat, not the thermometer.
Take Deep Breaths
If you're getting upset and about to blow up, try deep breathing. I know, it sounds hokey, but it makes a difference. When you are feeling overwhelmed, your body can go into fight, flight, or freeze mode, but in situations like these, you want to stay in rest and digest mode. By taking deep breaths, you're signaling your body to go back to rest and digest mode. Expand your belly as you inhale, and contract your belly as you exhale. Try taking several deep breaths before you take steps to intervene.
Use a Grounding Technique
If you're overwhelmed, sometimes it helps to do a grounding exercise to calm yourself down.
Say the alphabet and numbers together (A-1, B-2, C-3, etc…)
Squeeze a stress ball
Take a sip of cold water
Count by 7's
This is the link to the Coping Skills for Kids website https://copingskillsforkids.com/managing-anger
On here you can find all the above information plus more.
---
Mental Health Gender Identity
Mental health in children and young people: Gender Identity and worries
The Young Minds website has some really interesting facts and help on it for all sorts of mental health questions and coping with life. It tells us all about the different types of mental health including gender worries.
Our gender identity is how you describe your gender. For example, you might say you are a woman, non-binary, transgender, a man, gender fluid, or something different. Your gender identity is your decision and is also about how you want others to treat you – for example, how you want people refer to you ('she', 'him', 'they' or something else).
Gender is different from 'sex'. Your sex refers to your physical and biological body parts (like the penis, vagina, different hormones or breasts).
Over time, you might explore your gender and you might decide that you are a different gender than the sex you were born with. You might explore your gender at any point in your life, or continuously throughout your life, but it is common to do so during puberty when your hormones are changing and you're exploring lots of different parts of who you are.
Here are some different words people use when talking about gender identity
Cisgender/cis – Someone who is the same gender they were assigned at birth
Transgender – Someone whose gender is different from their sex at birth
Non-binary/genderqueer/gender fluid – These are gender identities that sit within, outside of, across or between 'male' and 'female'.
Intersex – A person who is born with biology that is not solely male or female. For example, chromosomes, hormone levels or reproductive organs that have female and male characteristics. These variations may not always be seen on the outside and so sometimes they are not diagnosed.
Pronouns – the terms we use to refer to someone, e.g. 'he', 'she', 'they'.
You may use something else to describe your gender. For more information about the different terms and gender identities, visit Stonewall.
How might gender identity impact my mental health?
Your experiences with your gender may affect your mental health in various ways. You might be questioning and exploring your gender, transitioning between genders, or thinking about transitioning. For some, this can be a confusing or difficult time. It may be distressing being viewed as a gender that doesn't feel right, or being referred to with pronouns ('he' or 'she'), that don't feel right.
You may also struggle with your body image or how you feel in your own skin if your body does not match your gender. But it doesn't always have to be this way and with the right help and support, things can start to feel better.
Gender dysphoria
Gender dysphoria is the distress or unease you may feel if your gender does not match your biological sex – for example, if you are a man but have biologically female body parts, such as breast
Unfortunately, some people experience bullying, hostility or discrimination if their gender identity is not similar to the people around them. Experiencing this, or hearing about these experiences from others can mean there may be times or places where you don't feel comfortable or safe sharing or expressing your gender. You might experience:
feeling scared about sharing your gender with others
hiding your identity because of anxiety about how people might react and what they'll say
worrying about what clothes you're wearing to express your gender, or feeling pressure to express your gender in a particular way
feeling self-conscious about how you walk or talk
feeling like you have to act a certain way and be someone you're not
feeling misunderstood, even by those who are closest to you
feeling under pressure to label your gender when you're not sure, or to share your gender with others
people using the wrong pronouns, like calling you 'he' when you are 'they'
being treated differently from others, or being bullied because of your gender
feeling pressure to conform with the sex you were assigned at birth
feeling unsupported or worried that your new gender won't be accepted or understood by your family and friends
people using your old name ("deadnaming") when you have a new name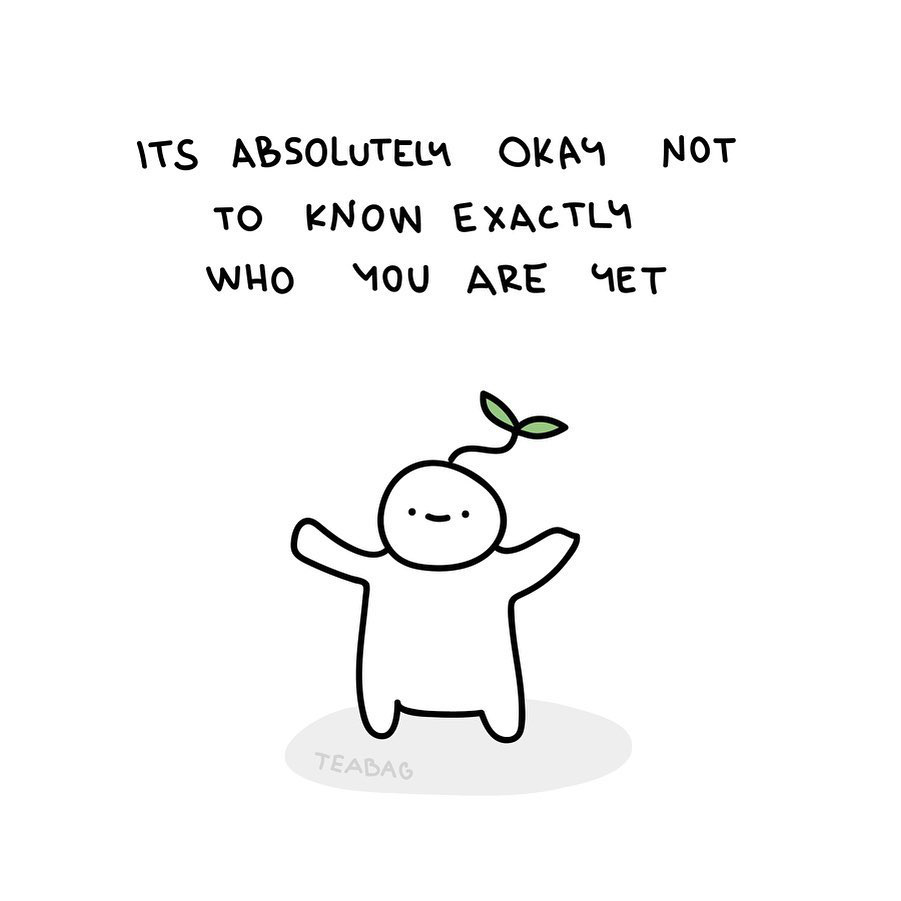 Self esteem and believing in yourself
Self-esteem is how we think, see and feel about ourselves. It isn't just about how we physically look but also how confident we feel.
Good self-esteem means we feel good about ourselves and confident in who we are and in our abilities. When we have good self-esteem, we're not too worried about what other people think, or how much we get wrong, because we accept ourselves just the way we are, without judgment. It also means we believe we are worthy and deserving of all the good things in life. But sometimes, we might find it hard to believe in ourselves and feel good enough. That's okay – it's normal to struggle with our self-esteem and this can change at different times in our live
When we talk about self-esteem
We're often talking about lots of different things, such as:
confidence– if we are struggling with our self-esteem, we may not feel confident doing things, even if we have done them before and know we can do them
how much we recognise and value the skills we have, like if we are good at a subject at school, at making people laugh, or our hobbies
how able we feel to share our opinions and ideas, and whether we believe what we have to say matters and is worth other people hearing
how comfortable we are with getting things 'wrong' and our ability to brush things off and realise that our mistakes and 'failures' do not define us
how we treat ourselves, and if we are kind to ourselves and practice self-care
how we think and feel about ourselves physically, also known as our body image. Read our guide on body image for tips and advice on feeling comfortable with how you look

What can cause low self-esteem?
There are lots of different things that can cause low self-esteem, including things that have happened to us in the past, our mental health, or difficult situations at home. It can also be affected by things like:
If you are struggling with a mental health problem like anxiety  or depression, you might feel down, anxious or have negative thoughts about yourself. You might feel like it stops you from doing certain things, which can lower your confidence.
Low self-esteem can also come from the way people in our lives treat us, for example if we are experiencing bullying. But the way we talk to ourselves – or about ourselves – can also affect our self-esteem. If you find you often talk about yourself negatively around others, even if it's as a joke, sometimes this can have a negative impact on the way you feel about yourself.  If you are having these negative thoughts and feelings about yourself, you might be struggling with your self-esteem. You might find that things like going out with friends, getting dressed or completing homework feel harder or cause you anxiety. For example, you might be worried that you won't do the homework well or have anything to say to your friends.
Having low self-esteem can happen at any point in your life. You might find that you struggle with it at different points in your life (like after a break-up, or if you're being bullied, or finding it hard to get a job), or it can happen continuously throughout your life. Low self-esteem can make you feel quite down or anxious. It can also lead to:
depression
feelings of worthlessness
feelings of isolation and loneliness
experiencing panic attacks 
feeling like you need to please other people and put everyone else's happiness before your own
putting yourself in risky or dangerous situations
accepting people not treating you well
taking responsibility or blaming yourself for other people's actions
struggling to say 'no' or set healthy boundaries
struggling to make decisions
If you are experiencing any of the feelings above, know that you can get through this and it can get better.
What to do if you are struggling with your self-esteem
If you are struggling with your self-esteem, here are some things that you can do to start to feel more confident in yourself.
Understand why you focus on the negatives
This can feel quite difficult at first, but understanding why you focus on the negatives can help you think about what is causing you to have low self-esteem. To help you understand why you focus on the negatives, ask yourself:
What negative things do you think about yourself?
When did you start thinking these things?
What has happened or is happening to make you think this way?
Challenge your negative thoughts
When you start thinking negative things about yourself, consider whether there is another way of looking at them. You might struggle with negative feelings because you feel like you have to do things 'perfectly' all the time. When you haven't done something perfectly, you might feel like you 'failed'. Instead, you could look at these moments and think 'I did okay there', or, 'it didn't go to plan, but I got through it'. By looking at situations from this point of view, it can take away the pressure to be 'perfect'.
You could also:
Think about what advice you would give to a friend who is struggling with these negative feelings; how would you help them to feel better?
Remind yourself of times that prove these negative thoughts aren't true. They don't have to be big events, it can be small everyday things like when you felt good in an outfit or when you shared your thoughts in class. These positive moments can act as reminders that you can do it and that you do matter.
You can also write these positive moments down so you have them to hand when you start to think negatively.
Focus on the positives
Write down your best feature, the last time you received a compliment, or the last time you did something for someone that made you feel good. These might seem like small things, but it is important to recognise all the good things about you, and the reasons why people appreciate you.
---
How you can support a friend who is struggling
If your friend is struggling with their self-esteem, here are some things that you can do to support them:
Spend some time chatting through with your friend the things they like about themselves. They might find this difficult at first so you could start the conversation by saying what you like about them. It will reassure them that they are loved and help them to see their positives qualities.
Encourage them in situations they feel nervous about. You could remind them of what they like about themselves, or times when they have got through a tough situation.
Encourage them to seek help, by talking to a trusted adult or seeing their GP for professional help.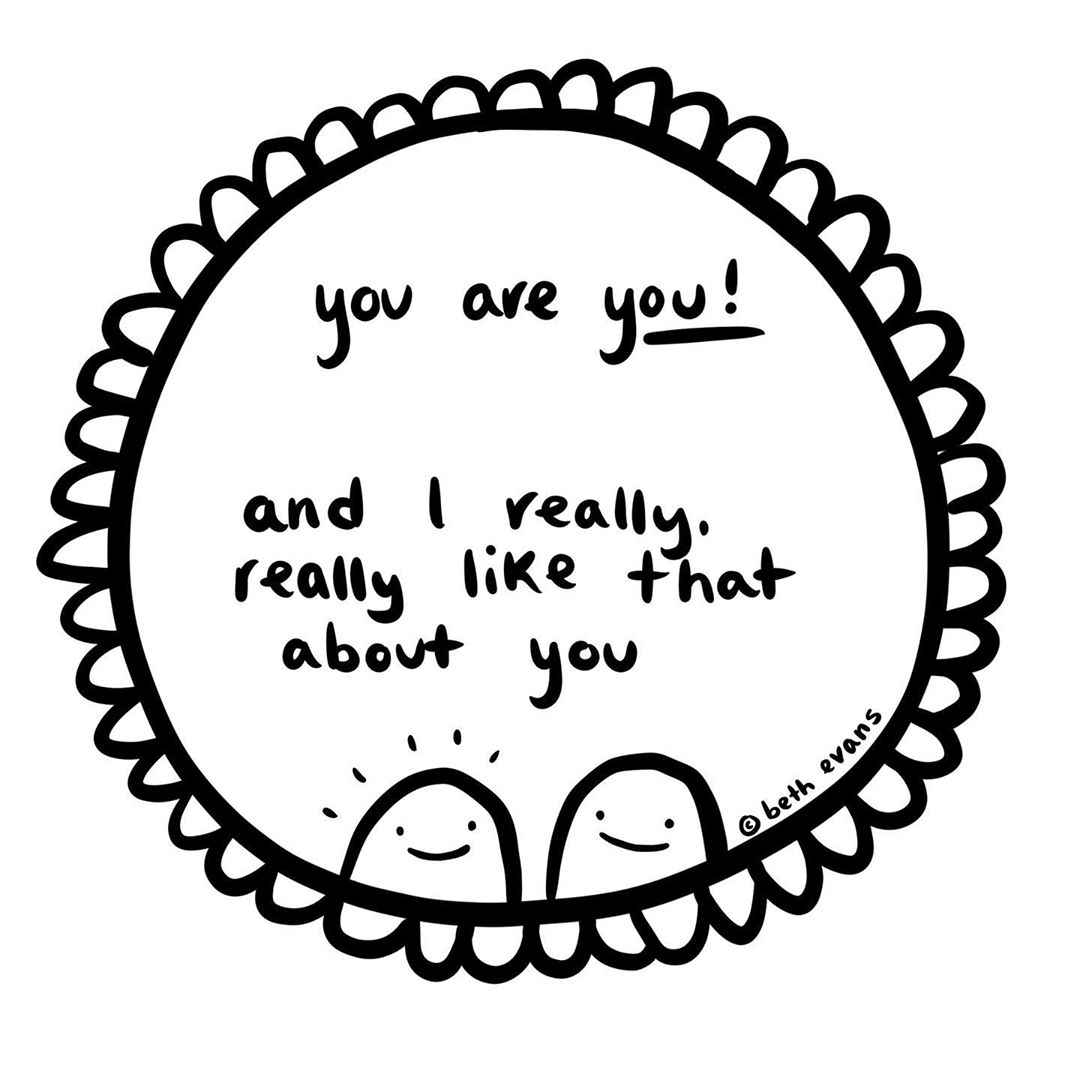 For more information and advice on supporting a friend, take a look at our page: Supporting a friend with their mental health
If you don't feel good about yourself, struggle with confidence or self-belief there are people who can help. Here are some services that can support you.
---
YoungMinds Textline
Text YM to 85258.
Provides free, 24/7 text support for young people across the UK experiencing a mental health crisis.
All texts are answered by trained volunteers, with support from experienced clinical supervisors.
Texts are free from EE, O2, Vodafone, 3, Virgin Mobile, BT Mobile, GiffGaff, Tesco Mobile and Telecom Plus.
Texts can be anonymous, but if the volunteer believes you are at immediate risk of harm, they may share your
Details with people who can provide support.
Opening times: 24/7
Website:  YoungMinds Textline
If you are struggling with a friendship
Throughout our lives, we might struggle with our friendships. We might argue with friends, no longer speak to friends we were once close to, or we might lose some friendships. You might struggle with a friend because:
one of you moves away, making it difficult to keep in touch
your friend makes new friends that you do not feel comfortable around
you might be left out of the friendship group
you meet new friends and aren't able to spend as much time with your old friend as you used to
one of you might be struggling with your mental health, meaning that you/your friend might be withdrawn and not keeping in touch as much
your friend might not understand how you are feeling or what you are going through – this can make it difficult to chat to your friends, or make it feel like they aren't taking your feelings seriously
you are making the effort to see your friend and stay in touch but they aren't making the effort back
they often ask you for advice and it feels like a lot of responsibility that you are struggling to manage
We might have arguments with friends, and sometimes fall out, but often you can get through those difficult moments together. You or your friend may not have realised how each other were feeling or understood what either of you were going through.
By talking things through and explaining how you both feel, you can both learn to better understand how you can support each other. Overcoming these tough times together can sometimes help make your friendship stronger.
In some situations, however, your friendship might come to an end. You may have tried to work through an argument and it hasn't worked out, or they may have not been very nice to you.
Friendships can come to a natural end too. There might not be a specific reason, but you might no longer keep in touch. Sometimes people grow apart and that's okay.
When friendships come to an end, it can be really tough. Friends are there through the highs and lows – they can be like our chosen family, meaning that it can feel tough to move on – but things can get better over time.
How do I know if a friendship is unhealthy?
your friends pressuring you to do something you feel uncomfortable with, like taking drugs or drinking alcohol
when jokes or banter become hurtful and disrespectful
you are constantly arguing and falling out
they continue to ask you for help when you have told them you are unable to
they make you feel guilty
they make you feel uncomfortable when spending time with different friends and make you feel like you have to choose between them
they bully you
the friendship feels 'one-sided', where they ask a lot of you but you don't feel like they support you in return
they isolate you from a group on purpose, making you feel lonely
Sometimes, friends might do these things unintentionally or without realising, or they might continue to do them after you've asked them to stop. Ultimately, it's about how you feel about the friendship.
If you're finding a friendship difficult
If you're finding a friendship difficult, you might want to talk to that friend about how they have been treating you. You might be nervous about talking to them, or worried about how they will react. Childline have some tips on how you can talk to your friend and be assertive to explain how you feel.
If your friend is constantly asking you for help but you're not sure what to say, it can make you feel stressed or anxious. Our page on how to support a friend with their mental health has tips on how you can set boundaries and look after your mental health, which you may find helpful.
When a friendship becomes unhealthy, it can impact other areas of your life and how you think and feel. It can make you feel down or anxious, or might lower your self-esteem and how you feel around other people. If you feel like this, it's important that you are able to get help. Even when you disagree with friends, you still deserve to be treated with kindness and respect.
Supporting a friend with their mental health
---
Mental Health Conditions
Just as your body can become unwell, your mind can become unwell too. And just like with physical illnesses, treatment and support is available.Below I have listed 6 common conditions, the young minds website goes into these a lot more plus explains all the other areas of mental health conditions.
https://www.youngminds.org.uk/young-person/mental-health-conditions/
ADHD and mental health
Attention deficit hyperactivity disorder (ADHD) can make it hard to concentrate and control your behaviour, and can make it feel like you have too much energy.
Autism and mental health
Autism – sometimes called autism spectrum disorder (ASD) – affects how you see the world and how you interact with other people. Find out the symptoms and where to get support.
Bipolar disorder
Bipolar disorder can make your mood become extremely high or low, with episodes lasting for days or weeks on end. It is a serious condition, but help is available.
Depression
We all feel low or down at times, but if your negative emotions last a long time or feel very severe, you may have depression. It often develops alongside anxiety.
OCD
Obsessive compulsive disorder (OCD) is an anxiety disorder where you experience distressing, repetitive thoughts and behaviours that you cannot control.
A phobia is an extreme fear of an object, person, animal, activity, place, feeling or situation. If you are struggling with a phobia, you are not alone.
---
Challenging behaviour
What is challenging behaviour?
The term challenging behaviour is used to describe a range of behaviours which can put the person displaying the behaviour or those around them at risk. This can be the risk of physical harm or risk of exclusion from various aspects of life such as school, work and relationships. It is behaviour that challenges parents, carers and teachers because it is of such intensity and usually not seen as socially acceptable.
Behaviours that challenge include but are not limited to:
Physical – injury to themselves or others i.e. head banging, hitting, biting, hair pulling, throwing things, spitting
Verbal – offensive language, screaming, shouting, threats, abuse, repetitive speech
Non-verbal – being destructive, rocking, pacing, stealing, withdrawal, inappropriate sexualised behaviours, eating inedible objects
What causes challenging behaviour?
All behaviour is a form of communication and there is a reason for all behaviour. Behaviour that challenges is a way to communicate unmet needs when an individual struggles to communicate their needs in other ways often due to factors such as anxiety, neglect, abuse, learning disabilities and conditions like dementia. Understanding the causes of challenging behaviour is the first step towards finding ways to support individuals and manage their behaviour.
There are numerous causes of behaviour that challenges, which are usually unique to each individual. Behaviour is influenced by a number of different factors including:
Social
seeking social interaction or trying to get noticed
boredom
attempting to exert control over a situation
unaware of the expected behaviour
Biological
pain
medication
hyper- or hypo-sensitivity
Psychological
an individual might try to live up to low or negative expectations they believe people have of them
feeling excluded from social situations
Environmental
changes to routine or carers without warning
trying to get something they want
under- or over-stimulation i.e. too loud, bright lights, too hot or cold
How to manage challenging behaviour
There are some general tips that can help when confronted with challenging behaviour:
Figure out any conditions which commonly trigger behaviour that challenges
Encourage alternative ways of communicating and expressing themselves
Be aware of warning signs and potential problems
Develop strategies to diffuse the situation
Explain things clearly and be patient, allow extra time for the individual to process information
Find out the individual's personal preferences i.e. do they have issues with being touched or do they struggle to make eye contact?
Challenging behaviour strategies for schools
In a school environment challenging behaviour can be particularity disruptive and have a negative impact on a greater number of people so any response should be consistent and fair. The aim should be to notice the warning signals and to prevent escalation:
We, as a school need to focus on reinforcing the good behaviour rather than reacting negatively to challenging behaviour
Ensure that we have the individuals full attention before making a request
Phrase instructions positively e.g. instead of 'stop hitting' try 'put your hands down'
Schools need to make individuals aware of consequences for repeated behaviour. They should be clearly explained and logical and may include being moved or loss of privileges.
How to tackle challenging if prevention measures have been unsuccessful
Ways to defuse the situation:
Stay calm and give the individual space
Try to find out what the problem is
Speak gently and clearly whilst thinking about your body language, try not to appear threatening in any way
Be compassionate and show empathy for the individual
Try to negotiate and work out a compromise
Distract the individual
Things that could exacerbate the situation:
Becoming agitated or upset
Attempting to restrain or corner the individual
Not listening, shouting or talking over them
Embarrassing, humiliating or laughing at them
Forcing them to make eye contact
Impact on family members and teachers
Behaviour that challenges can be very stressful as well as physically and emotionally demanding for those that are close to the individual. It is important to seek out support in order to talk to people in similar situations and share coping strategies.
__________________________________________________________
What support is available to me?
Useful contacts and self help groups: